Middle Eastern Cuisine
Stuffed Zucchini & Game Hens
Are you ready to take your friends and family by surprise? If you're anything like me, one to cook mostly what your momma taught ya, here's a curveball. Thanks to my friends the Halaweh's, you now have a homemade recepie straight from the source. I took an entire day learning middle eastern cuisine after dining with them and falling in love with the flavors. For me, it is completely different then anything I had growing up. Here is a step by step guide for you to make these dishes yourself! The prep is a little time consuming and delicate, but its sure to keep them coming back for more!
Prep Time: 20 minutes
Cook Time: 2 hours
Servings: 4
(simply increase the ingredients if you need to serve more.)
Ingredients:
· 10-12 Grey Zucchinis
· 1 lb. beef stew meat or chuck roast (have butcher cut into very small pieces or DIY, you can also sub lamb or any other desired meat)
· 2 Game Hens
· 2 cups jasmine or medium grain white rice
· ¼ cup ghee
· 1 ½ tbsp. salt
· ½ tbsp. pepper
· 1 tbsp. cinnamon
· 1 tbsp. all spice
· 1 tsp. turmeric
· ½ tbsp oregano
· ¼ cup vegetable oil
· ¼ cup Tukas tomato paste
· 2 ½ cups diced tomatoes or 1 Pint of stewed tomatoes from canning
You can purchase most of these items at your local grocery store, but I prefer to get the items like ghee, tomato paste, & grey zucchinis at your nearest middle eastern grocer. I recommend Samiramis Imports located at 2990 Mission Street, San Fransisco, CA 94110 for the SF Bay area and Tehran Market located at 1417 Wilshire Blvd, Santa Monica, CA 90403 for West LA.
Instructions: see photos for reference.
Prep your meat by rinsing with warm water both beef and chicken, dice up your beef if your butcher hasn't already. Set aside in fridge. Prep your rice by taking a large mixing bowl, rinse and soak in warm water (not hot) for 10-15 minutes. Set aside. Prep your zucchinis by first rinsing them well. Cut off the stem but not completely, leave a small sliver as it will hold them together while cooking. Take your corer and make 5 small cuts in the head, making a circle, slowly and delicately start carving out the center of the zucchini to the base. Until you get the hang of it, take your time or they will break. No worries if they do split a little, but the goal is to keep them together.
Once you have finished coring all the zucchinis, take a fork or a jagged knife and scrape the outside, this lets the flavors really sink in. Set aside. Drain the water from your rice, add the beef, melted ghee, vegetable oil and spices. Mix well. Take your zucchinis one by one and stuff them with the rice mixture, it is a small hole so you will likely be using your pinky finger. Fill each one to about ¾ full.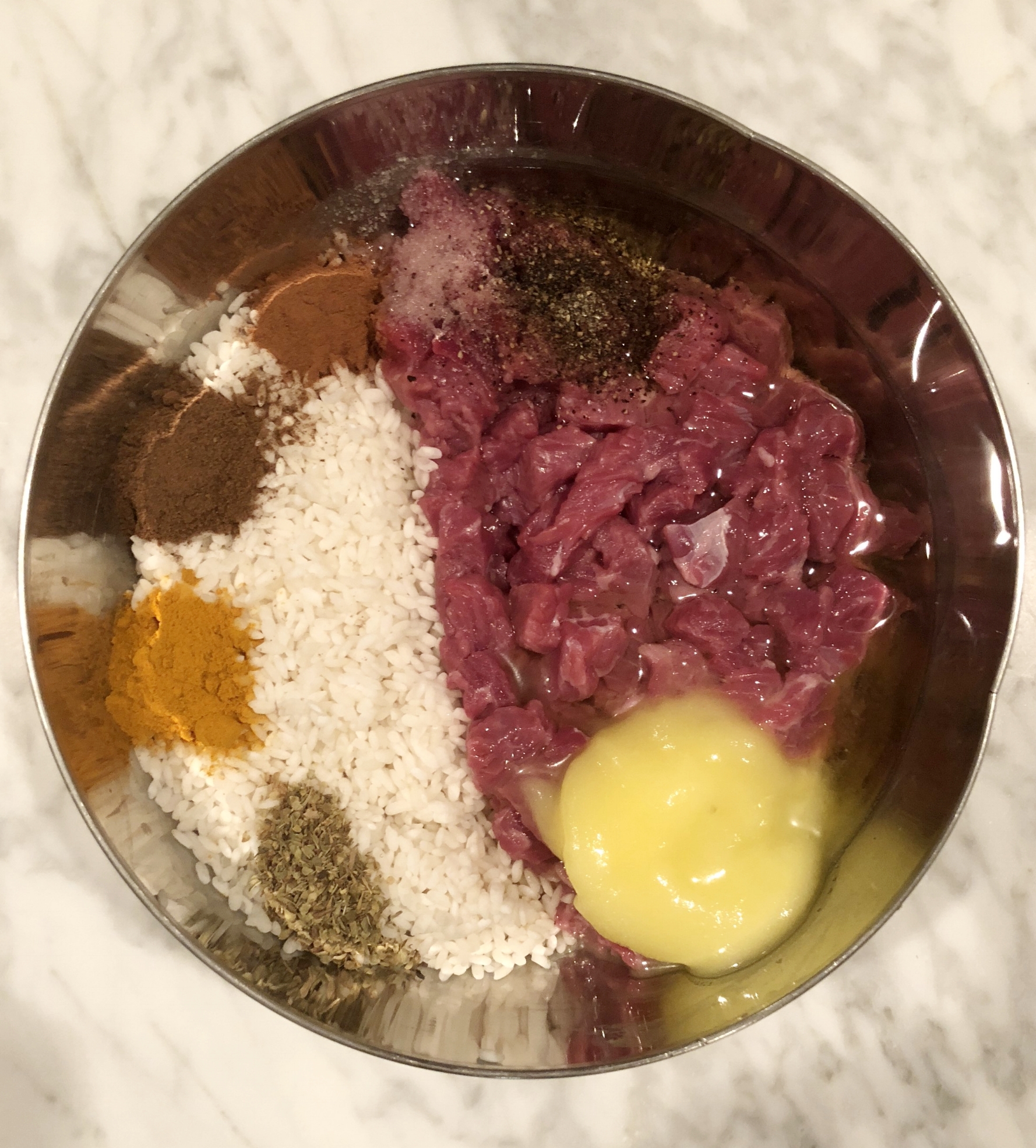 Place them in a large pot sporadically, not standing straight up. Using a blender, blend your tomatoes and tomato paste for 5 seconds. Pour it tomato mixture into the zucchinis and fully cover the zucchinis with warm water. They will float, that is okay. Season with a sprinkle of salt, pepper and oregano, to your taste. Bring your pot to boil on high heat then lower to a simmer for the next 1.5 to 2 hours. Do not overcook, the zucchinis will fall apart.
Back to the hens, pre heat the oven to 400. Take your game hens, season them inside and out with salt, pepper, allspice and a sprinkle of paprika. Stuff the game hens with the remaining rice mixture. Using toothpicks close up the chickens. Place them in a turkey bag, add one cup of water and place in a baking dish. Close up the bag and make sure to poke a hole in it, so it doesn't burst in the oven. Place the hens in the oven making sure not to let the bag touch any of the oven surfaces. Bake on 400 heat until the liquid is boiling, then lower the heat to 350 for 1 ½ hours. Once both of your items are cooked, remove the hens from the oven and remove the zucchinis to a platter from the tomato soup.
If your tomato soup is too thin, add small spoonfuls of the tomato paste while stirring to thicken to your preferred texture. Serve with labneh and pita bread if you'd like! ENJOY!
Leave me comments and pics below when you make this dish, if you wish!