Upper West
Some friends and I dined at Upper West this week and we had an absolutely amazing experience. This is the second time I have dined here and it keeps getting better, the vibe is fine dining but the ambiance and people are down to earth and welcoming.
Of course it always helps when you bring four friends and you order the majority of the menu to have a solid opinion on the food experience! The menu is so diverse; anyone could enjoy something or everything at this restaurant. I am gluten free 95% and 5% lightly cheating and I could enjoy the majority of the menu. We highly enjoyed our waiters both times; they were attentive, actually had personalities, were professional and seemed to genuinely enjoy their jobs. The ambiance was modern and artistic; they even have a projector playing old movies, in one of the side dining rooms. Their bar is extensive, offering a wide variety of options as well.
We enjoyed when the Chef, Nick Shipp, came to our table and checked in on our dining experience. He made his rounds and made his visits very personable and made sure that everyone was enjoying themselves. We ended up chatting with him for some time and came across a very moving story about one of the desserts they chose to carry. A young lady named Collette who was born with down syndrome, couldn't seem to get a job, no matter how many times or ways she tried. So with perseverance she started a cookie company named "Collettey's Cookies", the chef of Upper West heard this story and got in contact with her and now carries her cookies as one of their desserts. The proceeds go towards creating jobs for persons with disabilities. Get Collette's full story on her website!
Back to our food selections...
Appetizers & Entrees:
MUSSELS - garlic-saffron broth / chorizo sarta / cilantro / buttered ciabatta
ROASTED TOMATO SOUP - yellow curry greek yogurt / smoked paprika / extra virgin
ROASTED YELLOW BEET SALAD - rainbow chard / shaved brussel sprouts / grapes / manchego / herbs
ROASTED CORN SOUP- ground sumac
TUNA CRISPY TACOS - plantain shell / rice cracker / citrus-chipotle vinaigrette / jicama-cucumber salsa
FRIED SWEET POTATO - chimichurri / pomegranate / queso
BRAISED PRIME SHORT RIBS - 6 hour braised rib / coconut-cheddar polenta / sour tomato kasundi / fresno
CHICKEN TAWOOK - tomato & yogurt marinaded chicken breast / chana masala / herbs / mango / tomato-raisin chutney
Literally every dish was filled with flavor and everyone at our table highly enjoyed everything we tasted!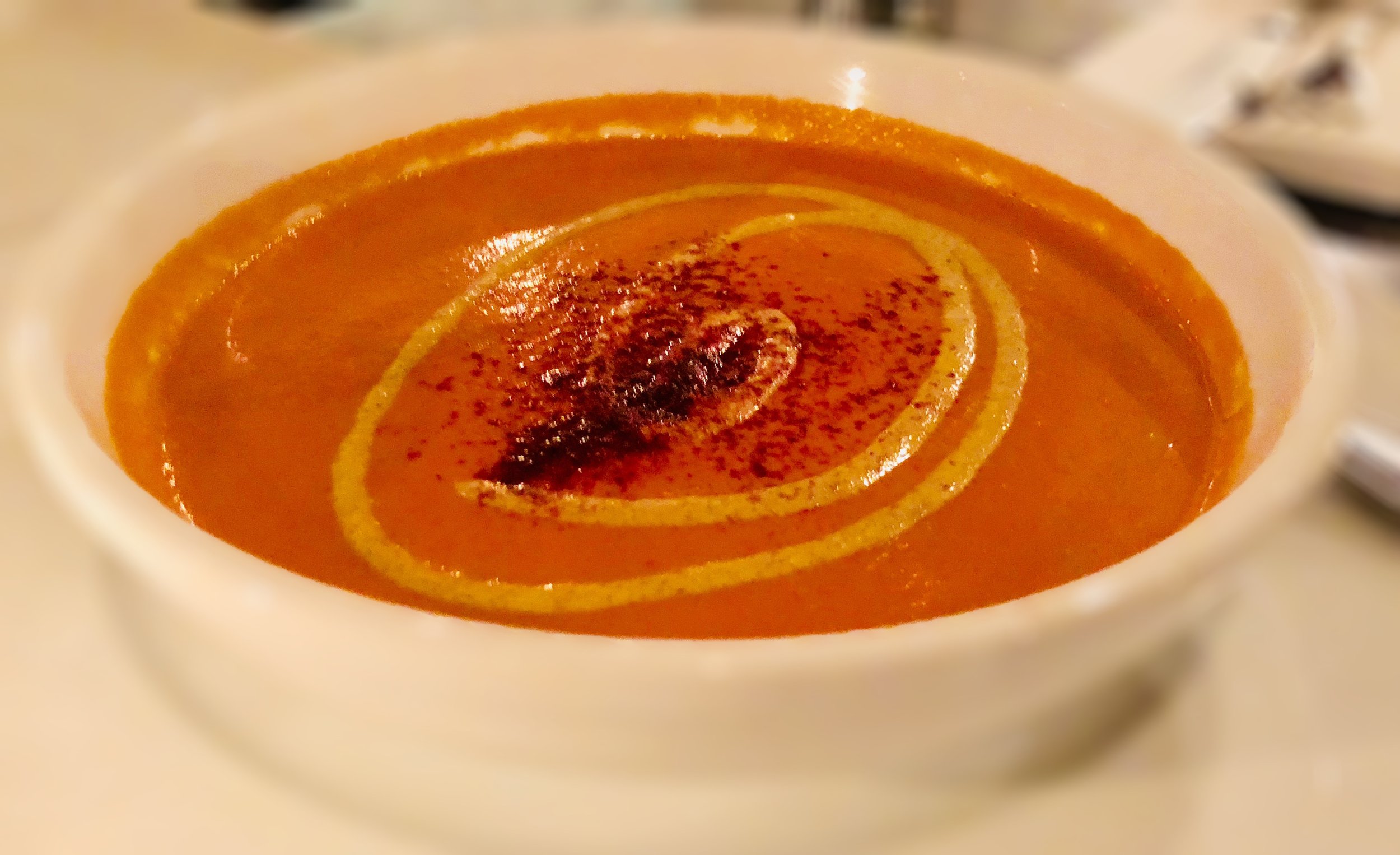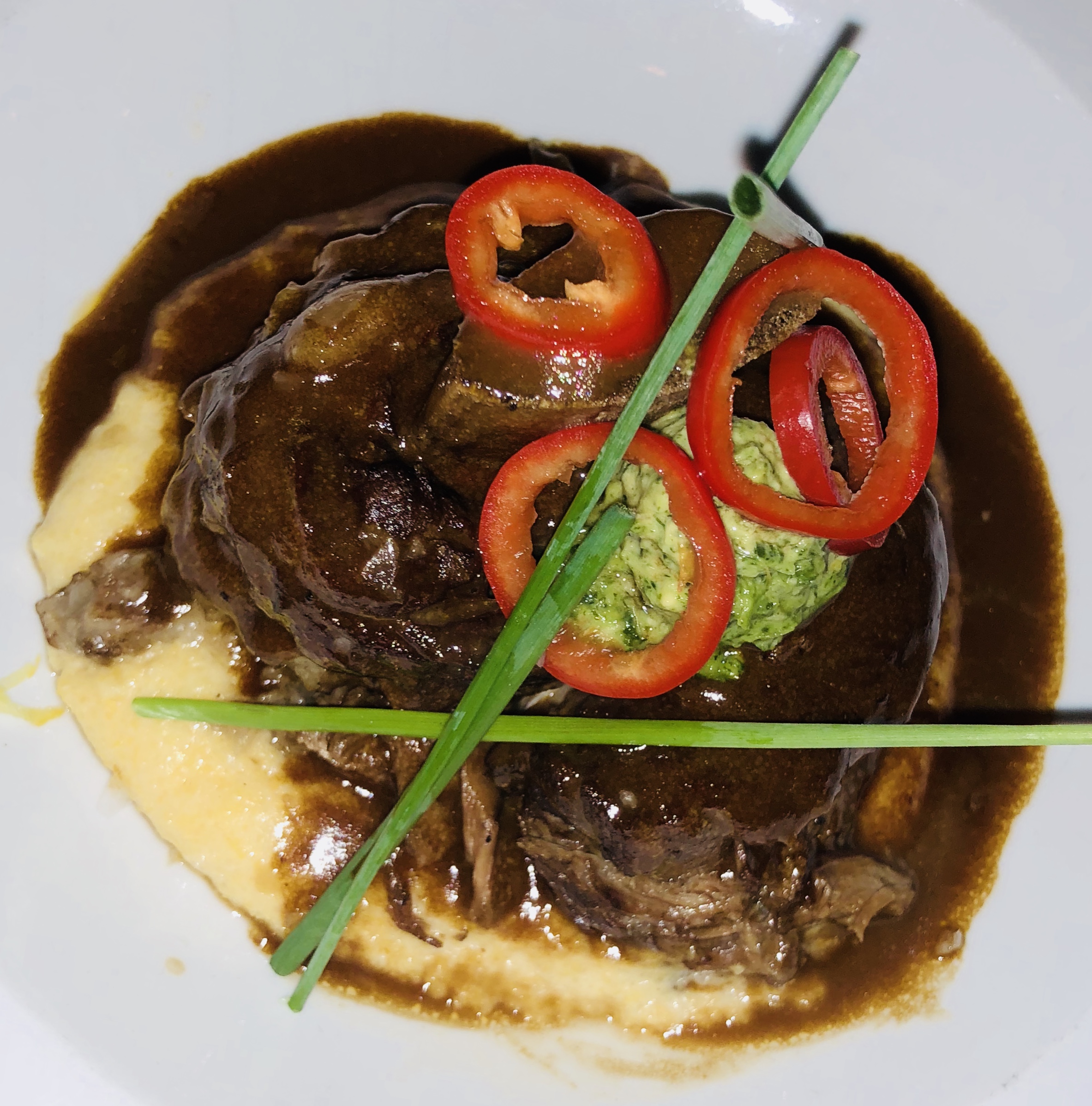 Desserts...
Yes we enjoyed nearly the entire menu, compliments of the chef! After the amount of food we consumed, he knew we could finish off all of these sweet treats! Food blogging = coming to eat everything! We honestly could not pick a favorite... Everything was so amazing, if I had to choose, my personal picks would be the brioche bread pudding and key lime tart.
KEY LIME TART - mango sauce /coconut-basil sorbet / lavender whipped cream
BRIOCHE BREAD PUDDING - rye whiskey caramel /crème anglaise / fresh local berries
CARROT CAKE ICE CREAM SANDWICH - butterscotch carrot cake / cream cheese ice cream
CHOCOLATE MOUSSE CRUNCH CAKE - peanut butter ice cream/ roasted marshmallow / coffee / strawberry puree
COLLETTE'S AMAZING COOKIES - chocolate chip-cinnamon cookies with vanilla ice cream dip ( reach out & support this girls amazing journey & her family's cause! www.colletteys.com
If you haven't dined here yet, you're missing out! Make the stop on your next trip to the west side. Located at: